10 highlights from the new ETpedia exams
To celebrate the publication of the sixth ETpedia title, ETpedia Exams, co-author and series editor John Hughes shares his highlights from the book.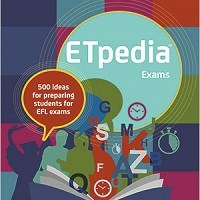 Years ago, in one of my first jobs, I was asked to teach an exam class leading to something mysterious called the Cambridge FCE. I survived by trying to stay one step ahead of the students and taking parts of the exam myself so I would understand what was required. Even though I'd taken training courses in how to teach English, no one had ever prepared me for teaching exam courses. This is surprising because so many students need to pass an exam in English in order to continue with their studies or to progress in their careers.
So when it came to choosing the theme of the sixth book in the ETpedia series, providing a resource with help and advice on teaching exams was an obvious choice. Here are ten of my favourite tips, highlights and features from the new title.
1 A fast overview of the key exams
If you are new to teaching exams, then you'll feel swamped by all the strange acronyms and choices. Terms such as IELTS, TOEFL, BEC, BULATS, PTE, GESE, ISE and TOEIC can feel like a language unto themselves so we've provided a thorough overview of all these exams, including information on the format of the exams, the numbers of questions and the types of skills tested.
2 Paper-based and computer-based
Increasingly, more English exams are online so we'll bring you up to speed on the key differences between the traditional paper-based formats and using a screen.
3 Advice from around the world
As with previous ETpedia books, we've included the ideas of teachers from all over the world. For example, here's some solid advice from Magda Dygała in Poland: "Firstly, I encourage my students to think about time management while taking exams. Students should glance through the exam paper thoroughly to see how much time they can devote to each question. Secondly, students should read the exam questions correctly, focusing on key words and phrases and try to build connections with the course content. Finally, students should start the exam confidently and focus their attention on what they know rather than what they do not know."
4 Understanding the exam
Often, the biggest mistake students make is going into the exam and not being fully aware of what is required. So, we've included lots of engaging ways to ensure they know every detail about the exam. Here's one suggestion from the book:
"If you have spent the lesson working on one part of the exam in particular, the final task can be to put students in groups and ask them to write five useful rules for anyone taking the exam, such as 'You should bring a spare pen' or 'You are not allowed to speak to anyone else'. A fun alternative is for students to write 'anti-rules', giving very bad advice. For example: 'Don't bother to bring in a spare pen' or 'You can chat to the person next to you if you need help'. Having students write the complete opposite of the real rules allows them to be imaginative, but it also ensures they are aware of all the key rules of taking
the exam."
5 Exam tips for young learners
For tips on exams for young learners, we asked the author of ETpedia Young Learners - Vanessa Reis Esteves – to write some units. Here's one of Vanessa's suggestions from Unit 13: "Always bear in mind that children don't come equipped with a teacher's brain, which means that when they look at an exam, they don't impulsively know what to do or how long to spend on each exercise. As a follow-up to making the children 'test wise', dedicate the first five minutes of every practice test to reading through the entire test with them.
At this stage, the children aren't allowed to write anything on the exam paper, they should simply focus on the number of questions, the question types and the length of the test. Gradually withdraw this support so that the children learn to do this on their own to manage the time that they have during the test."
6 Adding fun to exam classes
Any teacher who's familiar with the IELTS exam knows that students need to work with the language graphs and charts. Here's a nice tip from Mark Dawson-Smith in New Zealand on how to add some fun to the lessons: "It's great if you can create your own charts and diagrams on
topics that are of interest to your learners. I once did a series of IELTS Task 1-type exercises on James Bond with line graphs for movie revenue, bar charts for the number of movies per Bond actor, and pictographs for number of martinis. It was fun, engaging and still practicing the target language. It doesn't always have to be about unemployment and pollution!"
7 How to write exams
Of course, you might also have to write exams for your students so we've included a section with advice on exam writing as well as information about other resources which will help you develop as an exam teacher.
8 Real data
My co-author Louis Rogers always has fascinating data to support his approach to teaching. Here's a section from the book on preparing students for a reading exam with some advice from Louis on reading speeds: "One reason many students drop marks in the reading section of an exam is that they run out of time. Students in exams such as IELTS can have over 2,000 words to read and 40 questions to answer in just one hour. Many other exams include a similarly formidable challenge in terms of both volume of text and number of questions. It is therefore not uncommon to speak to a student after the exam and to find out that they did not get a chance to read the final text at all. Students can try to improve their reading speed in a number of simple ways. One way is to read a book in English: this can be a graded reader or a normal book if their level is high enough. Each time the student reads, they should see how much they can read in a fixed time period, for example, five minutes. The next time they read, their aim is to read slightly more in the same amount of time. Students should then repeat this timed activity whenever they read until there is a noticeable improvement in their reading speed. A native speaker will read at around 300 words per minute, whereas an intermediate speaker will often read just 60 words per minute. Such a slow speed can also affect student's' overall comprehension of a text as they tend to focus on reading at individual word level."
9 Practical pragmatic advice
As well as advice on matters related to the exam itself, there is also straight-forward study skills advice such as this one from Unit 10: "Too often, students have to cope with endless distractions, for example, the internet, their phone or friends and family. Encourage students to keep a log of the things they do while studying. For students who are too distracted by their phone, you could encourage them to install an app such as Offtime. This allows them to (selectively) block texts and calls, and limits the use of the type of apps that send notifications. Using such an app can make students more focused."
10 The appendix is even larger!
Finally, if you are familiar with past ETpedias, you'll know that we have an appendix with photocopiables such as questionnaires and classroom activities. ETpedia Exams offers similar support but, in addition, there's a whole reference section with photocopiable pages outlining many of the major examinations.
Want more ideas like these to help you teach exam classes? Order your copy of ETpedia Exams, by John Hughes and Louis Rogers, here.