10 things to know about the 2017 international video competition
Nowadays students of all ages love taking pictures and recording short videos of places and people that surround them to capture some moments of their lives. Making videos can be a great way to encourage students to develop critical thinking skills, enhance language skills and increase their motivation.

The international video competition, organised by Kazimierz Pulaski University of Technology and Humanities in Radom, Poland, is a great way to get students to come up with creative ways to share their school lives with other students and teachers from around the world. The title is 'A day in the life of ... (nationality) ... students'.

The rules are simple and the possibilities endless. Here is the list of 10 questions that will give you an idea what the competition is all about and what you need to do.

1. Who can enter?
The competition is aimed at high school and university students, with separate categories for each. Students can be located anywhere in the world.

2. What is the task?
The task is to record a short video of max. 3 minutes on the topic: 'A day in the life of …(nationality)… students' to show the way of life of typical students in their hometown. Students can choose the whole day, starting from the morning till the evening or a typical school day.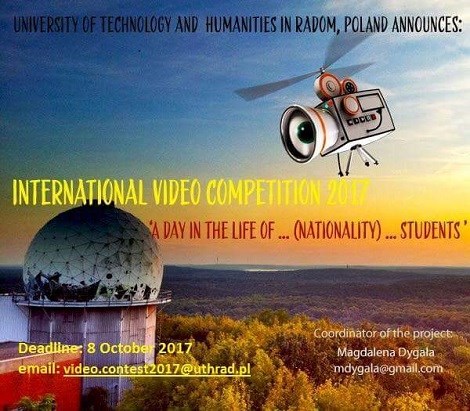 3. When is the deadline?
All entries must be received by 8 October 2017, 23:59 (GMT Time) at: video.contest2017@uthrad.pl

4. What is the judging criteria?
Members of the jury appointed by the Organiser will evaluate the video entries by awarding points at their own discretion: 30 points for topic, 30 points for creativity, 30 points for emotional value, 10 points for technical excellence. Sum: 100 points.

5. When will finalists be chosen?
Finalists from each category (high school students and university students) will be notified by Monday, 6th November 2017. Being chosen as a finalist means that your video was voted into the top 10 and will go on to be judged by an ELT experts.
Composition of the jury in the 2nd stage of the competition: Małgorzata Warmińska, Kieran Donaghy, Jon Hird, John Hughes, Rob Howard.

6. When will winners be announced?
The winners will be announced on 20 November 2017. A complete list of winners, along with the winning videos, will be posted on the competition website and published in the media and on the Internet portals.

7. What are the prizes?
Awards will be presented as follows:
1st prize (high school): A gift card with a value of not less than 150 euros, a board game REGIPIO - Travel with English, books and gadgets sponsored by the publishers: Oxford University Press and Express Publishing.
1st prize (university): A gift card with a value of not less than 150 euros, a board game REGIPIO – Beat about the bush in business, books and gadgets sponsored by the publishers: Oxford University Press and Express Publishing.
8. What forms are needed to enter the competition?
Adult Participants are required to submit a written statement of consent to the processing of their personal data and the use of image. Underage Participants require a written parental or legal guardian consent. Written statements of consent should accompany the video entry, and be sent via email to video.contest2017@uthrad.pl. All the relevant documents can be found in the website, please scroll down for the English guidelines and documents.
9. How many people can work on the video?
There is no limit to the number of students who can work on a video. However, the video must be entered under one name - the Lead Producer. Recognition and prizes will be given to the lead producer and all those listed as co-producers on the entry form.
10. What equipment is needed?
You can use any equipment that you have, for example a mobile phone, a still camera to make a photo montage or a video camera to make a motion picture. There are different types of free editing software that you can use for free: Windows Movie Maker which you can download free online, iMovie which is easy to use and you can get it free on all Macs. You can also get an access to free trials of editing software through Sony's Vegas Products or Pinnacle Studio.
The video entries will reach a broad audience within the student and teacher community from around the world. This is your chance to shine- good luck!