10 tips and ideas for your 'Christmas' lessons
In many parts of the world students will be getting ready for Christmas around this time of year. If you are planning a Christmas-themed lesson, we have collected together ten tips and ideas from the ETpedia authors, including a ready-to-use Christmas quiz at the end. If your students don't celebrate Christmas, then you could still do a themed lesson or adapt these ideas for any annual festivals in your part of the world.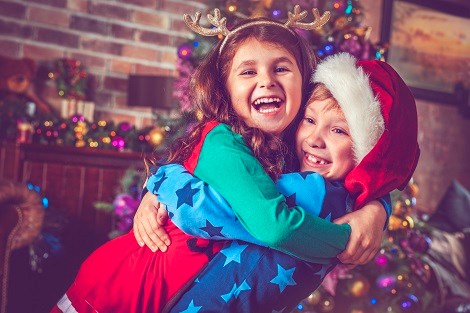 1 Christmas vocabulary (John Hughes, ETpedia series editor)

When planning any lesson with a Christmas theme, start by thinking about the vocabulary your students will need. You could write this list of words randomly around the board: turkey, potatoes, peas, cranberry sauce, tinsel, baubles, lights, a star, wrapping paper, tape, bow, ribbon. Next have students categorize the words into three categories: FOOD, TREE DECORATIONS, PRESENTS. You could also add more words and add new categories; e.g. CLOTHING, ENTERTAINMENT. Maybe bring in Christmas objects and pictures to help teach the words and for any students who don't come from a culture which celebrates Christmas you could also bring in a reading text to give some cultural background (see also tip 10 for more help with this).

2 Twelve days of Christmas (Ceri Jones, ETpedia Grammar)

You know the song, right? Have you ever taught it in class? If not, it's fun to start with the traditional song (there are so many YouTube renditions) and then explore some remixes (these need to be vetted, but there's a great Minecraft one for fans of the blocky game) and create your own. Here's a taster from a techy version we wrote in class last year: "On the fifth day of Christmas my true love gave to me five mobile phones! Four PSPs, three Nintendo games, two Wii controls and a flat screen plasma TV."

3 Thank you for the lovely present (Lindsay Clandfield, ETpedia Materials Writing)

Assign each student a 'place' from the following list: kitchen, bathroom, living room, bedroom, wardrobe, garage. Ask them to bring a small object from that place to class. So, if you had kitchen you could bring a wooden spoon or a spatula. If you had garage you could bring something connected to your car. If you had wardrobe you bring a small item of clothing. Don't tell them what this is for.
In the next class, put students in pairs. They have to exchange their objects, as if they were gifts. You could feed in useful language to help here (e.g. This is for you. I hope you like it. I didn't know what to buy you, so I got you this…). Once students have exchanged gifts, they need to write a thank you note for their gift. Tell them to include information on how useful it is, and how they have made us of it. They then give each other their thank you notes.

Don't give gifts, give music! Ask your students to create short Christmas poems in pairs – just 3-4 lines will do. Ask each pair to download the free Autorap app (for Android or for iOS) to their mobile phones, and to record themselves reading their poem into the app. The poem will automatically become a cool (but festive) rap song!

5 Christmas card greetings (Louis Rogers, ETpedia Exams)

Bring in some Christmas cards with the written greetings inside such as 'Merry Christmas' or 'Seasons Greetings'. Have students read and compare them. They can try translating some of the greetings into their own language and underline phrases which they would like to use. Then ask them to create their own greetings messages for the inside of a Christmas card based on the language they've found.

6 Secret Imaginary Santa (Daniel Barber, ETpedia Grammar)

Tell the class that you are organizing Secret Santa. Explain that normally with Secret Santa, each student would get the name of another student to buy a present for and there would be a limit to how much each person could spend. Today, however, students need to choose a present for everyone in the class and there is no price limit on the presents. Tell them that they can even offer impossible gifts. Give one or two examples, e.g. "Joao, I could give you a season ticket to the cinema, because I know you love movies," or "Carlota, I think you'd like a horse for Christmas." Students cut up enough slips of paper so that they have one slip for every classmate (plus you, of course!). They write their ideas for presents on it, then fold it up and write the name of the recipient on the outside of the slip. They put their slips in a hat.
Students take turns at pulling out slips, reading the ideas and giving the slips to the recipients. At the end, students choose their favourite presents from the ones they've been given, and say why. The 'Secret Santa' who 'gave' that present reveals him or herself.

Celebrate Christmas by telling the children a Christmas story. Here are some tried-and-tested suggestions: How Murray Saved Christmas by Mike Reiss (Puffin, 2004); The Polar Express by Chris Van Allsburg (Andersen Press, 2015); Snowmen at Christmas by Carolyn Buehner (Dial Books, 2005), and for more advanced learners, Auntie Claus by Elise Primavera (Houghton Mifflin, 2011). Using an empty toilet roll tube, the children can then make a puppet of their favourite character in the story to decorate their Christmas tree.

8 Jumbled Christmas Carol lyrics (Ed Dudley, adapted from 'Jumbled lyrics' in ETpedia Teenagers)

Find the words for a Christmas Carol and prepare a new version with all the lines in the wrong order, apart from the first two lines and the last two lines of the song. Get students into pairs and give them the lyrics worksheet. Before they hear the carol, set them the challenge of unscrambling the lines and numbering them in the correct order. Listen to the carol to check their predictions, before looking at the text in more detail.

9 Christmas slogans (Robert McLarty, adapted from ETpedia Business English)

At this time of year, you can find lots of adverts for Christmas gifts with slogans. Write the slogans on the board and students have to guess which company uses the slogan or what product it is advertising. Once you have looked at some examples of slogans and discussed which ones are more memorable than others, put students in groups and have them write a Christmas slogan for an imaginary product. Another alternative is to give each group a different photograph and tell them that it is going to be used in advert. For example, it might be a photograph of a child's toy. The group has to write a slogan to appear with the photograph in a magazine advert.

10 A Christmas-round-the-world quiz (John Hughes, ETpedia series editor)

End the term with a quiz to find out how much students know about Christmas around the world. Divide the class into teams and ask them these questions:

1 On Christmas Eve, how many dishes do you eat in Poland?
(A) 12 (B) 6 (C) Nothing. You don't eat until Christmas Day
2 In Serbia, who do children tie up on the two Sundays before Christmas Day?
(A) Your parents (B) Your brothers (C) Your sisters
3 What do children in Norway leave out for a gnome called 'Nisse'?
(A) Biscuits (B) Chocolate (C) Porridge
4 In Italy, what do bad children receive on Christmas Day?
(A) Nothing (B) Coal (C) Sweets
5 In Poland, what do people put on a Christmas tree?
(A) Spider webs (B) Gold (C) Flags
6 What did Tom Smith invent in 1846?
(A) Tinsel (B) Christmas Crackers (C) Fairy lights
7 In the Netherlands, what is the name of Santa's helper?
(A) Green Peter (B) Black Peter (C) Red Peter
8 In Australia, what pulls Santa's sleigh?
(A) Reindeer (B) Koala bears (C) Kangaroos
9 Traditionally in the UK, what do you put inside a Christmas pudding?
(A) A coin (B) A shell (C) A key
10 In India, you can't find traditional trees so what kind of tree do they decorate?
(A) Banana trees (B) Coconut trees (C) Mango trees
QUIZ ANSWER KEY:
1 A, 2 A, 3 C, 4 B, 5 A, 6 B, 7 B, 8 C, 9 A, 10 C
Note that the information in this quiz mainly came from these two sources. (These texts could also be interesting for students to read):
http://www.huffingtonpost.co.uk/2015/12/14/christmas-around-the-world-how-different-countries-celebrate-the-festive-season_n_7356098.html
https://greenglobaltravel.com/christmas-traditions-around-the-world/