10 questions for a teacher using ETpedia in a Chinese middle school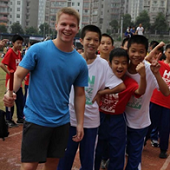 For William Reynolds ETpedia became a lifeline as he embarked upon his English teaching career in China. We asked William 10 questions to determine how ETpedia helps him.



1. What's your name?
William Reynolds


2. Where do you work?
The Guang Yi Experimental middle school, in Changsha, China.


3. What type of school is it?
The school is a private middle/high school which is also affiliated with the Hunan Normal university.


4. What are your main day-to-day responsibilities?
I'm a full-time English language teacher so I'm required to plan lessons which are full of language practice activities and games to keep the children excited and engaged. I also have a weekly English corner to help the kids one-on-one.

I also take part in extracurricular activities, as well as the festivals held by the school, such as the Sports festival this week. It's a great way to spend time with the students.


5. Who are your students?
They are seventh graders, ranging from eleven to twelve and all with vastly different levels of English ability.


6. What aspects of the work do you find especially interesting?
The most interesting point about working in China, besides China itself would have to be how different the kids are in comparison to English children. The children here are less confident in drawing attention to themselves.

Nevertheless, if you produce a lesson that is exciting enough to get the kids fully engaged you have an amazing time. They embrace any language games, and watching the shy children taking part feels amazing. On the whole I would definitely say that spending time with the students is the most interesting part of my working day.


7. How is ETpedia helpful in your work?
When I first started teaching here, ETpedia was my life line. The book is quite literally filled with ideas of things you can do, and while I do not always follow them to the letter, they do give an excellent template which you can alter to your student's needs and abilities.

Sometimes the ideas come from one section of the book, such as when I did lessons on sport, and other times there are multiple activities across the book which I can use.


8 Which section of the book has been particularly useful? Why?
Though I have scoured the book and used activities or tips from multiple sections, I would honestly have to say that the first lesson tips were the most useful to me. When I came to China with my first real lesson looming, I was terrified. But ETpedia gave me a whole list of activities to use straight off the bat, and while my first encounter with the kids did not go well, my first real lesson went swimmingly.

With plenty to do in the first lesson the kids were behaved, they were focused and importantly, they were having fun, which has made teaching subsequent lessons easier. For this I cannot recommend the book enough. I was the only one who brought the book with me to China, but all fifteen in my group have now used it, with some purchasing copies of their own


9. Which activity in a unit have you tried that worked well?
One activity the children like to do is "Love, really like, like, don't like, hate" (Unit 10, activity 3). This activity can be used for almost every lesson and I tend to use it either as a re-cap of the previous lesson, or at the end of the lesson to see how much they have taken in.

They love doing this, as they all have differing opinions and as some of them feel very strongly about the subject matter (especially bands) so everyone gets involved. I ask the students to come to the front and if they can, to draw what they like/don't like as well as write the name.

On the subject of bands the group "The TF Boys" - a One Direction type boy band - has generated some fierce opposition and a loyal fan base which is entertaining, and usually by the end of the lesson they have been in every category from love to hate.
The kids love this activity and I enjoy it because after starting it I let them do it themselves, which allows me to listen to their English and help anyone struggling with what we covered in lesson.


10. What's one more teaching tip or activity that you would add to ETpedia?
I teach classes of over 50 students so classroom management can be challenging. To control speaking activities I use a Minion stuffed toy. For some activities I throw him to one of the children, they will answer the question and then I allow them to throw the Minion themselves to another child.

Once or twice the Minion has accidentally gone out the classroom window or some children have been hit by the soft toy in the face, but on the whole it works extremely well. They kids are so excited to get the toy that they will grab it out of the air, then in a beautiful moment of realisation they remember that they have to answer a question, or write on the board and their face drops. Only the person holding the Minion can speak so this keeps the rest of the class listening and concentrating.


Thank you to William for answering our questions. Do you use ETpedia in the classroom? Let us know how you use it.