News: ETpedia Business English wins the David Riley Award for Innovation in Business English and ESP
Awarded at the IATEFL BESIG 2016 conference in Munich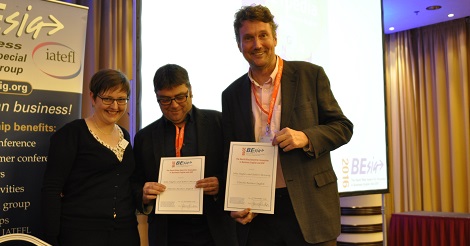 We are delighted to announce that one of our English Language Teaching (ELT) titles, ETpedia Business English, has won the David Riley Award for Innovation in Business English and ESP 2016. Awarded at the international IATEFL BESIG conference in Munich, ETpedia Business English was considered alongside 13 other innovative ELT materials submitted by individuals and publishers across the world.

The David Riley Award recognises new talent, creativity and excellence in the field of Business and ESP publishing across the whole of the ELT industry, and is offered annually in the quest to single out true innovation. David Riley was a teacher and renowned author of Business and ELT materials until he passed away in 2007, so the award is given to remember him and his huge influence in ELT.

Launched in April 2016, ETpedia Business English collates all teaching resources, ideas and tips as an 'encyclopaedia' for all business English teachers. Like the successful first resource in the series, ETpedia: 1000 ideas for English Language Teachers, ETpedia Business English is structured around lists of 10 points, ensuring it is an accessible and easy-to-use resource.

Editor of the ETpedia series, John Hughes, remarked "We are delighted that ETpedia Business English has been selected to win this highly-regarded accolade. It's a recognition of all the hard work that the team has put into developing the ETpedia series and it shows how much teachers appreciate an innovative and practical approach to resource materials."

Both John and the author of ETpedia Business English Robert McLarty spoke at the IATEFL BESIG Conference in Munich, where the award was given. They spoke about '10 ideas for business speaking activities using visual communication', ideas taken from the book itself. You can read more about their presentation and the 10 ideas they give in our previous Business English blog.

You can also find out more about our award-winning resource and the others in the ETpedia series here.