10 ideas for summer school activities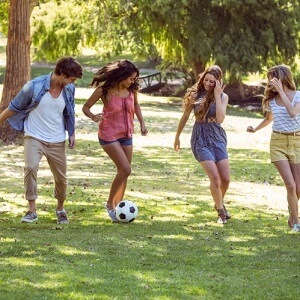 It's that time of year again when many teachers find themselves not only teaching language but also organising coach trips, refereeing football matches and arranging costume parties in the evening. Yes, it's the English language summer school with its mix of lessons and recreational activities.

So if you're currently in the middle of planning extra-curricular events and mid-week evening entertainment, here are 10 tips, ideas and activities to help you.


1. A treasure hunt
Treasure hunts require the students to work in pairs or teams and go out to find some 'treasure'. If they are staying in a new city, it's a good way to help them find their way around. The treasure itself can be objects or information. Compile a list that they must find, such as a postcard of a famous building in the city, a map, the address of the art gallery, some water from the fountain in the main square and a train timetable to another city. The winning team is the one that returns first with the most items.


2. The red card
Team games such as football or basketball at a summer school are useful for a couple of reasons. After a day spent in the classroom, your students will probably need some physical activity. Team games also encourage communication and on an English language summer school that communication should be in English. One way to ensure that the students don't use their own language during the match is to carry a red card like a referee in a football match. When you hear someone speak a different language, show them the red card and send them off for two minutes of play. This rule quickly ensures that English is the language of the game.


3. Invent a sport
As an alternative to telling the students what sport to play, have them create a new sport or game. Put them into groups and give them a selection of sports equipment, such as a ball, a net, a hockey stick, a piece of rope – whatever you have lying around. Each group has about half an hour to devise a new sport with this equipment before they present their new sport to the other students and teach them how to play it. Alternatively, each team writes down instructions on how to play the sport with the objects and they swap these with another team. The two teams read the instructions and try to play the sport.


4. A summer school blog
Set up a blog and encourage the students to submit posts, news, gossip, pictures and videos of their activities.


5. A cultural questionnaire
If your students are studying in an English-speaking country, they might be staying with host families - in which case they can interview the members of the family. Otherwise, try to find local people who are willing to be interviewed. Students can design a set of questions to find out more about the country and its culture. The types of questions can be as basic as What time do people normally go to bed in your country? What kind of house do you live in? or How old are you when you start school?


6. A talent show
Students in every country are so used to talent shows on TV that you'll have no problems explaining the basic principle behind this event. Invite the students to attend and present their own particular talent, in English of course!


7. Karaoke
Like TV talent shows, karaoke – or singing along to a famous song while the lyrics go across the screen – has become a worldwide phenomenon. Volunteers choose their song and perform for enthusiastic audiences. You might be able to buy or borrow some karaoke equipment but you'll also find many karaoke videos on You Tube.


8. International evenings
If you have students from different countries, invite them to prepare a typical dish of their home country. Your role is to lay out a room with some long tables, plates and cutlery. The students bring their dish and place it on the table. They could write the name of the dish on a piece of card with a short description of how it's made and place it next to it. Alternatively, when everyone has arrived, the students take turns to present their dishes to the group. This could include saying what it contains, how it is normally served and if it's eaten at a certain time of year. After the final presentation, everyone eats!


9. Quiz nights
Quiz nights are fun and fairly straightforward to arrange. You'll need a set of questions on a wide range of general knowledge topics. Bear in mind that if your contestants (students) come from a wide variety of countries and cultures, what you might consider to be 'general' knowledge in your part of the world might not be on another continent, so keep the questions as global as possible.


10. End of summer school presentations
On the final evening, invite students to give short presentations about their summer school experience. They could take turns to show photos or short videos of their favourite moments.

Many of these ideas are based on and adapted from Unit 91 in ETpedia.