10 questions about using ETpedia with trainee teachers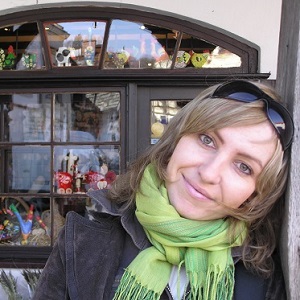 A teacher trainer from Poland is currently using ETpedia with her trainee teachers. We asked ten questions about her experience of using the book.

1. What's your name?
Magdalena Dygała.

2. Where do you work?
At the Kazimierz Pulaski University of Technology and Humanities in Radom, Poland and I'm also a teacher of English at the ZSO 7 Secondary School.

3. Who are the students you train at the university?
Students of English philology (in the teaching department).

4. What are your main responsibilities?
I teach on a course called 'The methodology of teaching English as a foreign language' for the department of English philology. This includes running workshops to give my students some practical ideas that they can use in their future jobs as foreign language teachers.

5. What do you like about training these students?
There's nothing better than seeing my trainees' enthusiasm and eagerness to participate in my class. My students are really motivated to learn and always surprise me with their clever ideas. With 16 years of teaching experience, it's a great opportunity to share my experience of teaching different age groups with people who share the same passion.

6. Why do you use ETpedia on your training courses?
- ETpedia is a very interesting teaching guide with lots of fresh ideas for those who want to be teachers of English as a second language as well as for those who begin their teaching career.
- It covers all essential areas of teaching from classroom management, lesson planning to all language teaching skills.
- It has an interesting layout and eye catching headings (each section contains 10 tips).
- The book contains useful, photocopiable materials.
Overall, ETpedia is a highly recommended book :)

7. Which sections of the book have been especially useful for your teacher training?
It's hard to say as I find all of the sections very useful. Maybe the ones with some practical examples of activities which can be photocopiable and the ones containing stimulating tasks like timelines.

8. Can you give an example of how you have used the book?
After giving a presentation of a new language area of teaching, I divide the trainees into groups of 3 to 4. They are given markers and some pieces of paper. Each group works on different points based around units from ETpedia. Their task is to put a summary of these points, along with their own ideas, into a mini poster. Then each group presents their mini posters to the other groups. Finally all the students work together and create a big poster containing 10 key tips.

9. What is the value of creating posters like these for trainee teachers?
- Posters are fun and practical for both the classroom and real world.
- They unite people. They are great for group and pair work or brainstorming of ideas.
- It teaches cooperation – students learn how to cooperate with others within the group.
- They have communication value – not only for the students who created them but also for others.
- The task gives a feeling of self-achievement. Hand-made posters create a sense of having an original piece of art.
- Students learn subconsciously, absorbing information from the posters.

10. Have you used ETpedia for any other training activities?
Yes, with video. When the trainees have created the posters, I ask them to think about a creative way to present them. Sometimes, I record a short video of their presentations which can be a very useful tool in sharing their work with other trainees from different groups I teach. Besides, students love watching their final product; it gives a sense of achievement whilst having fun at the same time.
We're featuring classwork from Magdalena's students  in our gallery - check out their poster presentations.